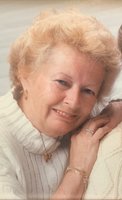 Mary R. Nolan
Mary R. Nolan
Age: 88 * Piscataway
Piscataway, NJ – Mary R. (Harris) Nolan, 88, passed away on Sunday, July 7, 2019 in Piscataway. Born in Lockport, NY to the late Willard and Josephine (Trennum) Harris, Mary has been a resident of the township since 1964.
Mary spent her time caring for and raising her family. She was a graduate of Brockport State College where she obtained her teaching degree. She was a loyal friend, avid reader, enjoyed her time down at the shore and at the family cottage on Lake Ontario. She was also a communicant of St. Frances Cabrini Church in Piscataway.
Predeceased by her son Sean Nolan, daughter and son-in-law Kathleen and Paul Tavino and brother Willard, II., Mary is survived by her loving husband Ronald of sixty-four years and children; Kevin Nolan of Fort Collins, CO and Michael Nolan and his fiancé Karen Dempkowski of Aberdeen. She also leaves behind her daughter-in-law Janice Nolan Dietz of Indianapolis, sister-in-law Marilyn Harris of Lockport, NY, six grandchildren; Nicole, Andrea, Connor, Brendan, Spencer and Mackenzie and five great-grandchildren; Lillian, Regan, Philomena , Althea and Evelyn.
Visitation will be held in Piscataway Funeral Home, 18 Stelton Road, Piscataway, NJ 08854 on Wednesday, July 10, 2019 from 4-8 pm and on Thursday, July 11, 2019 beginning 8:15 am. Services will begin in the funeral home at 8:45 am on Thursday, July 11, 2019 followed by a 9:30 am Funeral Mass at St. Frances Cabrini Church in Piscataway. Burial will take place at Resurrection Burial Park in Piscataway.