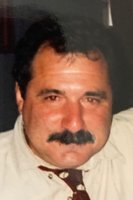 Edward W. Eodice, Jr.
Edward W. Eodice, Jr.
Age: 68 * Piscataway
Piscataway, NJ – Edward W. Eodice, Jr., 68, passed away with family at his side at Robert Wood Johnson University Hospital at Somerset in Somerville on Wednesday, September 11, 2019 after a short fight with cancer. Born in Plainfield to the late Edward Sr. and Concetta (Nocito) Eodice, he has been a lifelong resident of Piscataway.
After forty-four years in customer service, Edward retired in 2009 from Mack Trucks in Allentown, PA. He served on the Board of Education for the Piscataway School District for twenty years. Shortly after retirement he started assisting with the Piscataway Recreation Department and until his passing; he was a transportation driver for the Piscataway Senior Center.

Having been a football and baseball coach in his earlier years, Edward was an avid NY Giants and NY Yankees fan. His proudest accomplishment was watching his former players; Malcolm Jenkins, Anthony Davis and Kyle Wilson all make it to play with the NFL.
Predeceased by his step-mother Margaret (Peggy) and brother Joseph, Edward leaves behind his son Christopher and his wife Heather of Piscataway, daughter Concetta Eodice and her fiancé Jason Johnson of Perth Amboy, seven siblings; Michael of New Brunswick, Margaret Burr and her husband John of Hillsborough, Vincent of Piscataway, Thomas and his wife Debbie of Bridgewater, Robert and his wife Sandy of Piscataway, Debbie Phillips and her husband Dave of Indiana and James and his wife Whitney of Middlesex, seven grandchildren; Devin, Ashley, Gabriel, Landin, Allison, Jaiden and Giovanni and his great-granddaughter Gemma.
Visitation will take place on Sunday, September 15, 2019 at Piscataway Funeral Home, 18 Stelton Road, Piscataway, NJ 08854 from 10:00 am until 2:00 pm. A concluding religious service will be held at 1:30 pm followed by cremation being held private.
In lieu of flowers, donations sent to the American Cancer Society (www.cancer.org) would be appreciated.