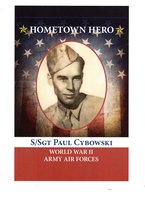 Staff Sergeant Paul Cybowski
South Plainfield – Staff Sergeant Paul Cybowski died September 15, 1943 in Hai Phong, French Indochina, today, known as Vietnam.
Born in South Plainfield to the late Paul and Lenora Cybowski, he attended Roosevelt School and after served in the Civillian Conservation Corps from 1934-1936. He worked at Cornell-Dubiler in South Plainfield and in 1942, Paul enlisted in the U.S. Army.
Paul served with the 14th Air Force "Flying Tigers" and was assigned as a Tail Gunner on a B-24 bomber. On September 15, 1943 while serving a mission, his plane was attacked and shot down by dozens of Japanese fighter planes. He was declared killed in action. It was said, Paul was still courageously firing at the enemy as the plane made its tragic landing.
As a result of his efforts, Paul was awarded the Air Medal and the Purple Heart.
Initially, he was buried at the Manila American Cemetery, Manila, Philippines but was relocated to France before his remains were brought back to United States soil, guarded in Hawaii.
After 75 years Paul will finally be laid to rest alongside his family in his hometown of South Plainfield, NJ.
Predeceased by his parents and siblings, Adolph, Estelle, Helen, Lucille and Jean; surviving are numerous nieces, nephews and great nieces and nephews.
Funeral services will be held in South Plainfield Funeral Home, 2456 Plainfield Avenue, South Plainfield NJ 07080 on Wednesday, September 25, 2019 beginning at 10AM with a blessing at 11AM.
Burial will follow in Holy Redeemer Cemetery, South Plainfield.
Family and friends may gather in South Plainfield Funeral home on Tuesday from 6-8PM.