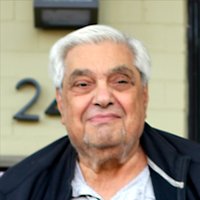 William N. "Bill" Pascuzzo
William Pascuzzo, Sr, 84, known to many as Bill, passed away peacefully at his residence in Middlesex on October 21, 2019 with his loving family at his bedside. Born and raised in Brooklyn, NY to the late Natale and Christina (Perri) Pascuzzo, Bill lived in Rosedale, Queens prior to settling in Middlesex in 1980.
Bill was a mechanical engineer at MAN Roland where he retired after 40 plus years. He had a passion for the printing press business and his job took him all over the U.S. and Europe to work on large scale printing press projects.
Bill loved baseball and rooted for the Brooklyn Dodgers for many years until they moved to Los Angeles in 1957. Once National League baseball returned to New York in 1962 Bill had a renewed passion for baseball and the New York Mets. Other than Mets baseball Bill enjoyed playing cards and going to Atlantic City with family and friends.
Predeceased by six sisters; Theresa, Florence, Louise, Linda, Marie and Rose, Bill leaves behind his loving wife of forty-eight years, Nancy (Fucile) Pascuzzo and their two sons; Bill and his wife Aimee of Bridgewater and Chris and his wife Anne of Washington, DC. He is also survived by four grandchildren; Sophia, Nathan, Will and Sammy as well as his sister, Dorothy of Long Island.
A gathering celebrating his life will be held on Saturday, October 26, 2019 at the Middlesex Funeral Home, Middlesex, NJ 08846 from 2:00 pm until 5:00 pm. Memorial contributions sent in Bill's name to RWJ Visiting Nurses, C/O VNA Health Group, 23 Main Street, Suite D1, Holmdel, NJ 07733-9892 would be appreciated. For those wishing to make contributions, please visit https://vnahg.org/memorial-gifts-and-gifts-in-honor/