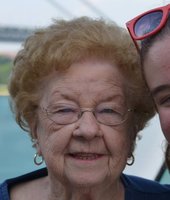 Monica Rose Ozgar
Piscataway, NJ – Monica Rose (Klonieke) Ozgar, 92, passed away peacefully at Robert Wood Johnson University Hospital in New Brunswick surrounded by her loving family on Wednesday, November 6, 2019. Born and raised in Jersey City to the late Adam and Pauline (Mustalewski) Klonieke, Monica has been a resident of Piscataway, living in the same house she and her husband built in 1956.
Monica worked for the Rutgers Athletic Department for 25 years. First at 'The Barn' in New Brunswick in the ticket office; she then became the team Travel Coordinator when the RAC was built in Piscataway. She handled all travel arrangements for away games for all Rutgers teams until her retirement in 1993. She enjoyed spending time with family and friends. Somebody was always stopping by the house for a cup of coffee. They would always leave with smiles on their faces because of her dynamic personality and great sense of humor. She was an original member of St. Frances Cabrini Church in Piscataway where throughout the years she was very active in her faith.
She loved spending time with children as a 'reading buddy' volunteer in the Piscataway school system; encouraging them to read and brighten their futures. Monica was a great cook, known for her stuffed cabbage and especially her famous shrimp-loaded noodle salad.
She was predeceased by her husband Robert S. Ozgar in 2009. They met when a relative suggested Monica write Bob when he was in the Navy during WWII. She never thought he would write her back, but they ended up having a beautiful 60 year marriage. She is also predeceased by three siblings; Adam, Edward and Florence and her son-in-law John Robinson. Monica leaves behind her children; Barbara Christiansen and husband William of Somerset, Robert Ozgar and wife Kristine of Finksburg, MD, Linda Robinson of Piscataway and Greg Ozgar and wife Michele of Easton, PA; ten grandchildren and thirteen great-grandchildren.
Monica will always be remembered as a wonderful mother, grandmother and great-grandmother.
Visitation will be held at Piscataway Funeral Home, 18 Stelton Road, Piscataway, NJ 08854 on Sunday, November 10, 2019 from 2:00 pm until 5:00 pm and on Monday, November 11, 2019 beginning 8:15 am.
Funeral services will be held on Monday, November 11, 2019 in the funeral home at 8:45 am followed by a 9:30 am Funeral Mass at St. Frances Cabrini Church in Piscataway. Entombment will follow at Resurrection Burial Park, also in Piscataway.
In lieu of flowers, donations sent in Monica's name to a charity of your choice would be appreciated.