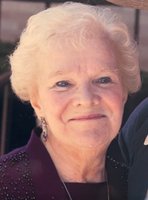 Pauline Frances Worthington
Middlesex, NJ – Pauline Frances Worthington, 91, passed away on February 19, 2021 at Bridgeway Care Center in Hillsborough. Born and raised in Bayonne until 1982, Pauline lived in Kearney until 1999 and has been a resident of Middlesex since.
In her younger years, Pauline worked as a secretary for several companies, but truly loved her time as a homemaker caring for her family. A devout catholic, Pauline said her prayers and read the bible daily and when she was well, would attend mass at Our Lady of Mount Virgin Church.
She loved to play poker, especially Texas Hold'em on her tablet and she enjoyed to knit and crochet.
The last of her nine siblings and predeceased by her husband Cyrus, III, Pauline leaves behind her children; Debbie McNamee and her husband Dennis of PA, Cyrus, IV of Middlesex and Kevin and his wife Joyce of Jersey City. She will be missed dearly by her five grandchildren, ten great-grandchildren and several extended family members and close friends.
Family and friends may gather at Middlesex Funeral Home, 528 Bound Brook Road, Middlesex, NJ 08846 on Monday, February 22, 2021 from 11:00 am until 2:00 pm. On Tuesday, February 23, 2021, all are invited to gather directly at Our Lady of Mount Virgin Parish, 600 Harris Avenue, Middlesex for a 10:00 am Funeral Mass.
Burial will follow with her husband in the family plot of Holy Cross Cemetery in North Arlington.
In lieu of flowers, donations sent to the American Cancer Society (www.cancer.org) would be appreciated.