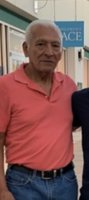 Victor Majano
Piscataway, NJ – Victor M. Majano, 75, passed away on March 22, 2021 at Robert Wood Johnson University Hospital at Somerset in Somerville. Born in San Miguel, El Salvador to the late Manuel De Jesus Cuevas and Maria L. Majano, he immigrated to Fredericksburg, VA in 2015 and then settled to Piscataway a year later.
He worked at Aramarck in Woodbridge as a custodian. While living in El Salvador, he worked in sales with the pharmaceutical industry. He was an avid fan of soccer and enjoyed biking, jogging and hiking. There are no words to describe how big Victor's heart was and his family, whom loved him dearly, will miss spending time with him.
Victor leaves behind his wife Zoila Velasquez, son Victor M. of Virginia Beach, VA, son Roguer and his wife Nancy of Fredericksburg, VA, son Dario of El Salvador, daughter Xiomara of Piscataway and fourteen grandchildren and ten great-grandchildren.
Visitation will be held in Piscataway Funeral Home, 18 Stelton Road, Piscataway, NJ 08854 on Saturday, March 27, 2021 from 3:00 pm until 6:00 pm. For those unable to join with us in person, please visit the private youtube channel below this obituary between 3-6 pm on Saturday.
At the conclusion of services, Victor will be flown back home to be buried in the family plot in El Salvador.
** During this ongoing pandemic, according to Executive Orders and the CDC
Guidelines, we kindly ask that face masks must be worn while visiting, to be mindful of physical distancing to the best of your ability, and are asking visitors to minimize time spent indoors to allow everyone a chance to pay their respects. We thank you for your understanding and for taking these precautions during this difficult time. **