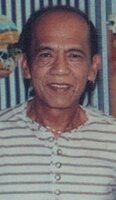 Wally V. Espanola
South Plainfield, NJ – Wally V. Espanola, 79, passed away at Robert Wood Johnson University Hospital in New Brunswick on January 16, 2022. Born in the Philippines, Wally immigrated to the United States, settling to Franklin Township and ultimately moving to South Plainfield 1980.
In the 1970's, Wally suffered burns to a majority of his body from a fire in his apartment complex. Between hospital stays and rehabilitation, this gave him the opportunity to walk again and live a long life with his dearest companion Myrtle E. Harris. He retired from Franklin Bank where he worked in the maintenance department.
Wally enjoyed time spent in his yard and maintaining his garden. He loved to cook and when he wasn't spending time in the kitchen or yard, he was tinkering around with his 1997 Mercury Cougar or gambling at the casino's.
He is survived by his longtime companion Myrtle E. Harris, siblings Linda and Rey who live in the Philippines and by several nieces and nephews; especially Mitch. He also leaves behind his cousin Rose of NC and Brenda of PA.
Visitation will be held in McCriskin-Gustafson Home for Funerals, 2425 Plainfield Avenue, South Plainfield, NJ 07080 on Saturday, January 22, 20221 beginning 1:00pm. A concluding catholic prayer service will be held at 3:45pm and at the request of the family, cremation services are private.