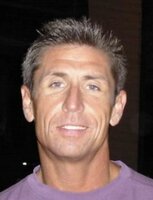 Dennis Peter Carey
Dennis P. Carey
Age: 58 * Retired Navy Air Traffic Controller
Pensacola, FL & Antarctica – Dennis Peter Carey, 58, passed away at his sister's residence on January 10, 2023 after a short but valiant fight with cancer. Born in Bronx, NY to the late Francis and Anna (Flynn) Carey, Dennis grew up in Cresskill, NJ. He played football for the Cougars and went on to study at Rutgers for a year before joining the Navy.
Dennis was trained by The Navy as an Air Traffic Controller and was based on the USS JFK, USS Kitty Hawk and had land based assignments in Crete, Guantanamo Bay and Cuba. His most memorable and enjoyable deployment was at McMurdo Naval Air Station in Antarctica. After retirement and an honorable discharge from the United States Navy, Dennis was hired several times as a private contractor to return to McMurdo Naval Air Station in Antarctica. His last assignment was from September 2021 to this past April.
He was a proud veteran of the Gulf War and Operation Desert Storm. No matter where Dennis was, he could always be found talking to strangers and debate the current issues going on throughout the world. While living in Florida, he was still a NY Giants fan and his favorite places to gather at were the Wine Bar and Fosko Coffee. This is where he spent his last days socializing with his many friends he has made over the years.
A self-published author, Dennis wrote an e-book titled "Missled" and was currently working on a follow up book. Over his short fifty-eight years, Dennis has made friends over the world and all those that knew him will miss him dearly.
He leaves behind his loving sisters; Theresa Gibbs and her husband Bill of Lincoln Park, NJ and Eileen Carey of Montville, NJ as well as three cherishes nieces; Kaitlyn, Devin and Megan Gibbs and his uncle Martin Foley. He is also survived by many cousins and several friends.
At the request of Dennis, all services will be private and a memorial service honoring his life will be announced at a later date.