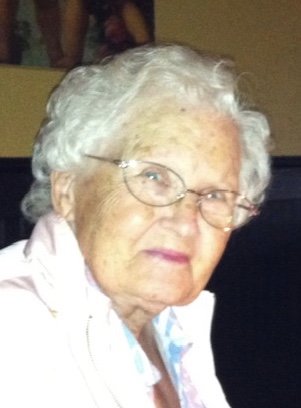 Obituary of Rella Diamond Risoli
Rella "Diamond" (Smith) Risoli went home to our lord on August 14, 2019 . Her daughter Antoinette and husband Tom Myers along with their family and the staff at Westmoreland Manor in Greensburg, PA were by her side as she peacefully went home.
She lived a full life of faith, service, and love of family for more than 98 years. Diamond loved our flag and everything it represents. She was a true patriot.
Diamond Smith spent her childhood years in Chicago and Shelbyville, Illinois. She was the third child of Clay and Viola Smith. Her siblings, Mabel Smith Camfield, Ken Smith, June Smith Swipies, and Walter Smith have all preceded her in death. During WWII she took an office job at Douglas Aircraft to show her support for the war effort.
She met her husband John F. Risoli on a train as he was being transferred to an army training base in Illinois. It was truly love at first site for both of them. Diamond wrote to John faithfully while he served in France and into Germany during the war. They married November 5, 1945.
John and Diamond Risoli lived in Chicago, IL and South Plainfield, NJ and raised their four children: Viola Risoli Mann and husband Bill (deceased) of Middlesex, NJ, Antoinette Risoli Myers and husband Tom of Greensburg, PA, John Risoli and wife Donna of Madison, FL, and Chris Risoli and wife Shelly of Blue Ridge, TX.
Diamond served on the South Plainfield, NJ VFW as president of the Ladies Auxiliary and the Cooties. She volunteered her time at many fund raising events. She also served as president of South Plainfield Schools PTA board and volunteered in the classroom as a room mother. She worked part time at Friendly's Restaurant in Piscataway, NJ.
In 1988 she and her husband, John, moved to a ranch in Blue Ridge, TX. There she continued to serve others as a Eucharistic Minister at their church, St. Elizabeth's Catholic Church in Bonham, TX. When she was asked to help young adults prepare for their G.E.D., she volunteered her time and talent in tutoring them throughout their preparation. After her husband's death in 2003, she continued her service at church and enjoyed her outings with friends in her Red Hat Society group.
She moved to Frisco, TX in 2006 after a stroke to be closer to her son, Chris Risoli and his family. Diamond enjoyed weekly outings at church every Sunday, hair appointments, mocha cappuccino coffees, and especially, chocolate ice cream runs. She moved to Greensburg, PA in 2014 where her daughter, Antoinette Myers and her family could care for her.
Throughout her life, her faith and service for others made her shine brighter than any earthly diamond, but her love for her family was truly her greatest gift. Diamond's love runs deep in her 11 grandchildren and 16 great grandchildren who share loving memories of their sweet Grandma.
Surviving are Billy and Dianne Mann and children Brian, Lyndsey, Lauren and William, Shawn and Daryl Anne Mann and daughter Nicole , Victoria and Steven Kubik, and children Noah and Joshua Wenzel all of Dunellun, NJ, Mary and Noel Becker and children Mia, Katherine, and Genevieve "Diamond"of Hudson, OH, Molly and Casey Braffet and children Patrick and Alex of Greensburg, PA, Laura and Derek Wise and children Christopher and Marilyn of Fort Polk, Louisiana, Emily Myers of Pittsburgh, PA, Marie and Travis Smith and son Blaine of Madison, FL, Justin and Courtney Risoli and son Julian of Little Suamico, WI, Jenna Risoli of McKinney, TX, and Joe Risoli of Temple, TX.
She is also survived by her sister-in-law Cora Smith and family of Springfield, IL. Diamond has many nieces and nephews on both the Smith and Risoli sides of the family who will treasure her memory.
Friends and family will gather for a viewing on Sunday, August 18th from 1-5PM at McCriskin- Gustafson Home for Funerals at 2425 Plainfield Ave South Plainfield, NJ 07080. A funeral mass will be held on Mon. Aug. 19th at 10:00 at Sacred Heart Catholic Church in South Plainfield, NJ. Burial will follow at Holy Redeemer Cemetery.
The Risoli family would like to express gratitude and praise for the loving care providers and staff at Westmoreland Manor in Greensburg, PA. who took such amazing care for our beloved mother and Grandma.
Visitation
1:00 pm - 5:00 pm
Sunday, August 18, 2019
McCriskin – Gustafson Home For Funeral
2425 Plainfield Avenue
South Plainfield, New Jersey, United States
908-561-8000
Visitation
Funeral Mass
10:00 am - 11:00 am
Monday, August 19, 2019
Church of the Sacred Heart
149 South Plainfield Avenue
South Plainfield, New Jersey, United States
908-756-0633
Funeral Mass
Interment
Holy Redeemer Cemetery
1734 Clinton Ave
South Plainfield, New Jersey, United States
908-822-5892
Interment
Share Your Memory of
Rella