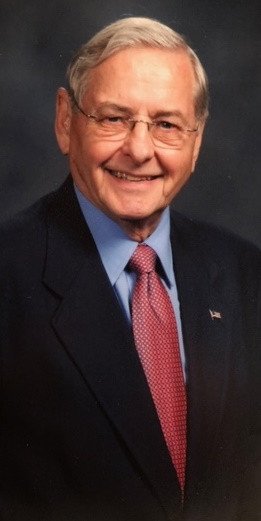 Obituary of Julian C. Rydarowski
South Plainfield, NJ – Julian Cornelius Rydarowski, 90, passed away Friday, May 22, 2020, at Haven Hospice located within JFK Medical Center in Edison. Born and raised in Plainfield to the late Julian A. and Stephania (Podmokly) Rydarowski, Jules married the love of his life in 1965, the late Maureen P. Diegnan and together they started their life in South Plainfield.
Jules was a 1948 graduate of Plainfield High School and enlisted in the United States Navy in 1951. After completion of the Navy Corpsman School, Great Lakes Training Center in Illinois, Jules served at US Naval Hospital, Camp Pendleton Marine Corp Base in Oceanside, CA. He then continued as a Combat Medical Corpsman attaining the rank of Hospital Man 2nd Class – Sgt. Jules was assigned to the 9th Marines, 3rd Marine Division in Osaka, Japan. His division was assisting the 1st Marine Division fighting during the Korean War. In 1955, Jules received his honorable discharge from the military and returned home to be with his family.
In 1958, Jules graduated from St. John's University School of Pharmacy. After a devoted career in medicine, Jules retired in 1995 from Thrift Drugs located in East Brunswick. A faithful communicant of the Church of the Sacred Heart in South Plainfield, he served on the parish council, assisted with working bingo's and was a 3rd Degree Knight with the Knights of Columbus, Commodore John Barry Council in Dunellen. He also belonged to the Roadrunner Travel Club and South Plainfield Senior Center.
His past times included photography, golf, bowling, computers and watching all types of mystery shows. Jules truly enjoyed spending time with his family, going out to dinner and a good Southern Comfort Old Fashioned. He was extremely proud of his grandchildren and enjoyed attending their sporting events, train shows and watching his granddaughter dance.
July 25, 2009 was the worst day of his life when his wife of forty-four terrific years, Maureen, took her last breath. He was also predeceased by his sister Emelia and her husband Ted Stahura, brother Thaddeus and his wife Agnes Rydarowski and by his in-laws, Patrick and Sally Diegnan.
Jules is survived by his loving and supportive family; daughter Susan Gwiazda and husband Glenn of South Plainfield, son Joseph Rydarowski and his wife Debra of Metuchen, grandchildren; Robert and Sarah Gwiazda and Aidan, Joseph and Dillon Rydarowski and his brothers and sisters-in-law; Donald and Geri, Richard and Susan, Norman and Anita, Joseph, Evelyn and John Gorman, Senator Patrick Diegnan and his wife Anita as well as several nieces, nephews and extended family and friends.
A private service was held at McCriskin-Gustafson Home for Funerals with burial following at Holy Redeemer Cemetery, both in South Plainfield. Please visit www.McCriskinFuneralHome.com to send online condolences to the entire Rydarowski family.
In lieu of flowers, please consider a donation in support of the compassionate therapists at JFK Rehab in Edison, NJ. Please copy the link - https://www.facebook.com/donate/604769823469606/?fundraiser_source=after_edit OR select the Donation tab to the left.
Share Your Memory of
Julian