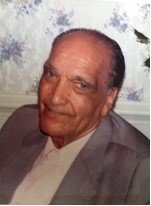 Share Your Memory of
Billy
Obituary of Billy G. Friday, Sr.
Billy Gene Friday
December 5, 1928—November 17, 2020
Billy Gene Friday, Sr. peacefully entered eternal rest at his home on Tuesday November 17, 2020 with family members at his side. Mr. Friday was born on December 5, 1928 in Dallas, NC. He was the last to pass of six siblings born to the late Charlie H. and Mignon (Pasour) Friday.
Friday, as he was lovingly called, graduated from public schools in Dallas, Gaston, NC. At the young age of 18, Friday registered with the draft board which he later served in the U. S. Army as a supply truck driver during the Korean Conflict. Upon returning to the U.S. in 1953, he migrated to Elizabeth City, NJ where he worked at a mattress factory and married Lillie Irma Dungee.
Friday worked for and retired in 2001 from RobCo Construction Company (Robbins Construction). Initially employed as a laborer and later as a foreman, the owners of the company recognized his immense desire to learn the industry. On his own, he learned how to read blueprints, make calculations in building material estimates, and trained and supervised workers. He excelled and became a project manager overseeing city building projects in his last position. His expertise and attentiveness to detail resulted in receiving recognition from the Governor of NY for the Nehemiah Housing Plan in Brooklyn for the construction of thousands of stable, affordable single-family houses in a city undergoing gentrification. His extensive knowledge base, work ethics beyond reproach, and persistence in mentoring potential professionals in the field of construction translated to his sons and many others is a constant reminder of his 50 years of service and dedication.
Friday was preceded in death by his wife Lillie Irma Dungee (2003), daughters Adrienne Marie Friday Matthews (2003) and Joyce Michelle Friday (2003), and son, John Willis Friday (2003).
He is survived by two sons Charles Friday (Lolita) of Poconos, PA, Billy Friday, Jr. (Jeanette) of Poconos, PA, two daughters Pamela Broaddus of Richmond, VA, Melody Friday of Decatur, GA, two sisters-in-law, Hazel Mitchell of Lynchburg, VA, Alline Winfree of Richmond, VA. He is also survived by grandchildren Tammie Boggs (Al), Melody Bourne-Jackson (Benjamin), LaToya Floyd (Milton), Tina Friday, Carla Friday, Robert Matthews, Steven MacLuskie, Tara Friday, Stephanie Friday, Kellie Friday, Carrie Friday and Malachi Friday and 23 great-grandchildren, many nieces and nephews.
Friday's favorite past time was listening to the blues at the end of a long day. The music of Ray Charles, Muddy Waters and B. B. King were his favorites.
He will be missed in many ways and his cunning logic and humorous comments truly illustrated his perseverance and approach to life's hurdles. His statement, "If you see me and a bear fighting, help the bear!" summed his stance regarding the hurdles encountered in life, and if you knew Friday, one would definitely feel for the bear as he was sure to outwit him.