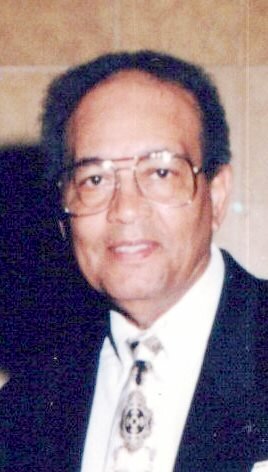 Obituary of Kenneth R Scott
Please share a memory of Kenneth to include in a keepsake book for family and friends.
Kenneth Roland (Kenny) Scott, 88 years old, passed away on Thursday, January 19th, 2023 at JFK Medical Center in Edison, NJ.
Kenneth was born on August 29th, 1934 to Herbert Scott and Eva Burwell and raised in Paterson, NJ with his siblings, Laurie, William, Lawrence, and Joyce Scott. Kenny graduated from Eastside High School and then started his career path.
He spent 4 years in the Air Force as a Medical Service Specialist from 1954 until 1958. His last rank was Airman Second Class. He started working at Linden Warehouse & Distribution Co, Inc. in 1977 where he worked for over 22 years with various jobs within the organization. Over the years he received many awards for his excellent service prior to retiring in 1999. He was an incredibly hardworking man who was dedicated to supporting his family.
Kenneth Scott settled in South Plainfield, NJ and married the love of his life, Ethel on December 7th, 1969. They were married for 51 years. Kenny was an exceptional man who upon marriage lovingly cared and accepted as his own daughters, Dawne and Valerie Geer. In that time, he joyfully provided and protected not only them but also the lineage that came to follow. He was a proud family man and cherished every moment spent with his children and the generations that followed.
For many years, Kenny and Ethel were faithful members of St. Mark's Episcopal Church in Plainfield, NJ. He was known for his faith in the Lord, and many acts of service within the church. He will be remembered for the genuine care, wisdom, and guidance he not only shared with his family, but with the entire congregation.
He was known for his hearty laughter and warm smile. His unwavering kindness had a positive impact on everyone he encountered, leaving them feeling loved and cared for. Kenny was an excellent orator, who's stories where full of history meanwhile reflecting on life lessons. Some of the stories were shared in church, with the Men's Group, or at the many summer BBQ's and pool parties he and Ethel hosted. He was a wonderful photographer and by default a historian. He honed his craft by capturing brilliant images and developing them into multiple forms of media. His memory was impeccable and could describe any fact immediately after questioning.
Kenny enjoyed his favorite TV shows Jeopardy and Wheels of Fortune. He also shared a love for jazz alongside his brother William. As an avid sports fan he followed baseball and football (Go Giants!). Kenny was enthralled with flight and train simulators. In his spare time, he built a train city in his basement and crafted model boats. He was so good with his hands that he made numerous renovations to the house per Ethel's "Honey to do List". For his love of boats, he joyfully traveled to Florida and cruised the open seas numerously with Ethel. They were culinary explorers (aka "Foodies") dining all over the world.
Upon gaining his wings, Kenny was joined by his beloved wife, Ethel Scott, Herbert & Eva Scott (parents), Laurie Byrd (sister), H. William Scott (brother), Evelyn Hughes and Barbara Scott (sisters-in-laws), Alonzo Byrd (brother-in-law), Dawne Geer and Valerie Jefferson (daughters), Mia Geer (granddaughter), Jacque (pet son).
Loved ones that will miss Kenny until they meet again are Lawrence Scott (brother) Joyce Scott (sister), Sylvia Scott (sister-in-law), Vanessa Geer, John Geer, Ayleia Geer, Tamier Geer (grandchildren), and several great grandchildren, many nieces, nephews, and friends.
Kenny was a man of few words while simultaneously making a statement. His legacy of unconditional love and kindness will continue to live on in the hearts of many.
Visitation will begin at 11am followed by a 12pm funeral service on Friday, January 27, 2023 at St. Mark's Episcopal Church 1430 Park Ave. Plainfield, NJ 07060.
Immediately following the service Kenny will be laid to rest alongside his beloved Ethel at Hillside Cemetery Scotch Pains, NJ 07076.
PRAYER
Don't think of him as gone away
His journey's just begun,
Life holds so many facets
This earth is only one.
Just think of him as resting
From the sorrows and the tears
In a place of warmth and comfort
Where there are no days and years.
Think how he must be wishing
That we could know today
How nothing but our sadness
Can really pass away.
And think of him as living
In the hearts of those he touched
For nothing loved is ever lost
And he was loved so much.
Amen
POEM
A SILENT TEAR
Just close your eyes and you will see
All the memories that you have of me
Just sit and relax and you will find
I'm really still there inside your mind
Don't cry for me now I'm gone
For I am in the land of song
There is no pain, there is no fear
So dry away that silent tear
Don't think of me in the dark and cold
For here I am, no longer old
I'm in that place that's filled with love
Known to you all, as "up above"
- Author Unknown
THANK YOU
The Scott family would like to thank you for the cards, flowers, and kind expressions of sympathy shown during Kenny's passing.
Your support at this difficult time is very much appreciated and a great comfort to all of the family.
Share Your Memory of
Kenneth